Staff profiles
Jon Primrose
Technical Services Partner
Jon has been with the Department since 1991 and is the Technical Services Partner for Communications, Drama & Film with responsibility for the Digital Theatrecrafts module and the smooth running and scheduling of all practical and technical activities in the Department, alongside colleagues.
The Drama Department online timetabling and equipment and production management tool Chronos was written by him and is continually developed as students request more features.
He was trained by Maurice Marshal as assistant electrician at the Northcott Theatre and his interests include all aspects of technology in the wacky world of entertainment, particularly the technology of scenic automation in theatre and many aspects of cinema technology and special effects.
He has been Lighting Designer of many shows in and around Exeter and the odd one in London and further afield.
Jon is a member of the Association of Lighting Designers, Association of British Theatre Technicians (ABTT), Stage Management Association, Association of Sound Designers and the Magic Lantern Society.
He is a member of the ABTT Historical Research Committee in connection with his work on the Strand Archive and Backstage Heritage Collection at Theatrecrafts.com.
Research interests
Jon is responsible for the following websites which are constantly evolving and increasing in size;
Theatrecrafts.com - Technical theatre resource, including the largest Glossary of Technical Theatre Terms on the web
The Strand Archive - archive of stage lighting equipment manufactured since 1915 by Strand Electric, later Rank Strand, then Strand Lighting.
TheStudioTour.com - initially an online history of the development of Universal Studios Hollywood, this site is expanding into an online history of movie studios across the world.
Research through practice
Jon's work as a Lighting Designer is listed below.
Lighting Designer;
2013 The Exeter Riddles for Animated Exeter & Exeter City Council
2002 End of Story for Chelsea Theatre and Two's Company
2001 Harry and Me for Warehouse Theatre, Croydon and Two's Company
2000 Dick Whittington for Qdos Productions in Wolverhampton (with Lisa Riley and Jimmy Cricket).
1999 Ten by Pinter featuring A Kind of Alaska for Two's Company on tour, in Edinburgh and in Springfield, Massachussets.
Lighting Designer at the Northcott Theatre, Exeter;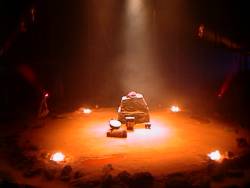 1998 Seneca's Oedipus by Ted Hughes, directed by John Durnin
1997 Far from the Madding Crowd devised by the company, directed by John Durnin
1996 Northanger Abbey by Jane Austen, adapted by Cathy Turner
1994 Amadeus by Peter Shaffer, directed by Tim Carroll,
1994 Breaking Bread Together by Robert Shearman, directed by John Durnin
The Last Yankee by Arthur Miller, directed by Tim Carroll
1990 Thark by Ben Travers, directed by Martin Harvey
External impact and engagement
Jon is involved at a national level with his personal research project The Strand Archive (www.strandarchive.co.uk) which engages with equipment and practices of theatre lighting technicians since 1915.
Along with a group of colleagues from the international technical theatre industry he has launched The Backstage Heritage Collection (www.backstageheritage.org), a database of equipment of historical interest worldwide which is being gathered together and preserved and organised for exhibition.
From January 2015, he is a member of the Association of British Theatre Technicians Historical Research Committee, which meets monthly.
His resource website Theatrecrafts (www.theatrecrafts.com) has been used by educational institutions worldwide, and is continually developed.
Teaching
Since 1991 the technical teaching in the Drama Department has evolved as the needs of the programme have changed.
The current module Digital Theatrecrafts is a second year option. Additional technical teaching takes place in the first year as part of the Research and Performance module (for the whole year group) and in the second year as part of Staging the Text (again, for the whole year).
The teaching and learning is backed up by an internationally-known technical theatre resource Theatrecrafts.com, where new resources are regularly posted.
The teaching is as broad as possible, to ensure all students are engaged, whatever their specific interest.
Modules taught