What's on
Performances, workshops, events and seminars are shown on this page, where they're of interest to Communications, Drama and Film students.
Please remember that coursework-related events may not appear until a week before the event, so please check back regularly.

Wed 18 Oct
Start time: 18:00


Eurythmy Taster Sessions
Presented by:
Mioara Tarzioru
Location:
TS1 (Alexander Building, Thornlea, New North Rd.)
Postcode: EX4 4LA
Show on Map
You are being invited to take part in taster sessions led by Mioara Tarzioru that will introduce to you elements of the Chekhov technique, as well as simple eurythmy exercises which are going to be explored in a second artistic project of a Research through Practice PhD entitled King Leir and his Three Daughters.
The sessions will take place in TS1 on Wednesdays 4,11 and 18 October.
The script is based on the English mediaeval ballad with excerpts from Shakespeare's King Lear, leading towards a 30-40-minute presentation at the end of the academic year.
Eurythmy was developed by the philosopher and spiritual teacher Rudolf Steiner as an art that makes speech visible and enhances our experience presence on the stage in terms of body, space and social awareness.
Michael Chekhov, one of the most famous actors and acting teachers of the twentieth century, deemed eurythmy essential for drama training, helping actors to develop their acting skills and connect to their source of creativity. There is also a compelling social aspect to eurythmy, which helps with developing the 'ensemble' technique.
Mioara is a qualified eurythmy teacher with previous stage experience, both as a eurythmist and an actress.
If you'd like to attend please email mt674@exeter.ac.uk

Wed 25 Oct
Start time: 14:00


Rolling Stone Magazine Visit
Location:
TS2 (Alexander Building, Thornlea, New North Rd.)
Postcode: EX4 4LA
Show on Map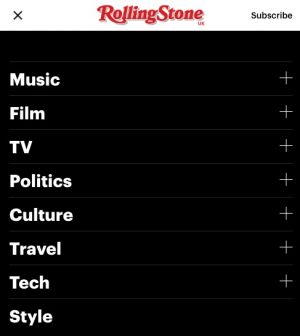 On the 25th October at 2-4pm, we have Nick Reilly coming to the University from Rolling Stone magazine.
The session will cover the following: Nick's career trajectory, how to pitch a news article, how to conduct an interview and ethics in journalism.
This is an exciting opportunity for students who want to go into music journalism, or for those just interested in learning from a top journalist.
Here is a link to some of Nick's work: https://www.rollingstone.co.uk/contributor/nick-reilly/
As you can see, he has interviewed many famous musicians and is part of the team that regularly breaks pop culture news.
Please email Amelia Morris if you want to have a space reserved. There are limited tickets available. A.Morris4@exeter.ac.uk